Welcome
Actor - Director - Choreographer - Dancer/Singer - Teacher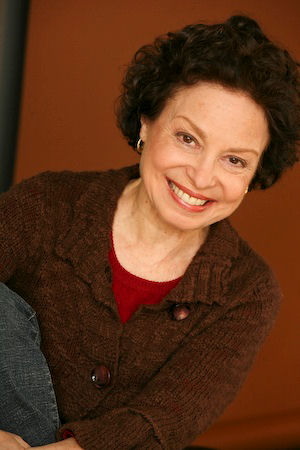 Grandi was the Founder and Artistic Director of Playhouse West, the highly successful small professional theatre company in the San Francisco Bay Area. Playhouse West enjoyed an impressive, award-winning 13 year run. Prior to that, she had successive roles On and Off Broadway in New York City as well as National tours and has appeared on television and in many commercials. She became a Chanteuse in several San Francisco clubs and established herself as a prominent acting teacher.
Lois is now a freelance performer, director and teacher. Currently based in the East Bay, she is available to travel.
Lois is a member of Actors' Equity Assoc., Screen Actors' Guild, The American Federation of Television and Radio Artists, The American Guild of Variety Artists and The Association of Canadian Television and Radio Artists
News and Projects: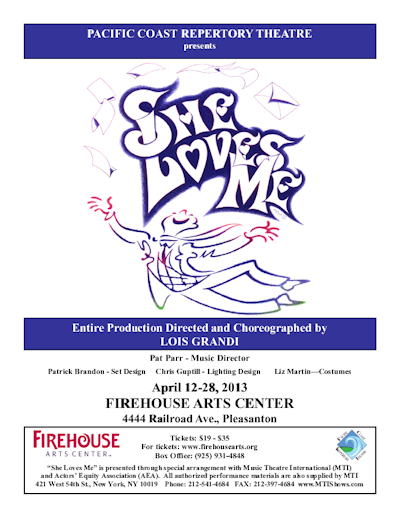 Book by Joe Masteroff
Music by Jerry Bock
Lyrics by Sheldon Harnick
Based on a play by Miklos Laszio
Two Acts, Book Musical, Rated G
An intimate and touching show, featuring music byJerry Bock and Sheldon Harnick (FIDDLER ON THE ROOF) and book by Joe Masteroff (CABARET), SHE LOVES ME is considered by many to be the most charming musical ever written.
Georg and Amalia are two feuding clerks in a European parfumerie during the 1930's who secretly find solace in their anonymous romantic pen pals, little knowing their respective correspondents are none other than each other. Funny, intelligent, honest and sentimental, SHE LOVES ME is a warm romantic comedy with an endearing innocence and a touch of old world elegance and nostalgia, yet as universal and relevant as ever in this age of internet romances.
SHE LOVES ME showcases a small but strong ensemble cast playing a range of memorable characters of all ages. It is a heart-warming story adored by all.
April 12, 13, 19, 20, 26 & 27 at 8 PM
April 14, 21 & 28 at 2 PM
TICKETS NOW AVAILABLE AT: www.firehousearts.org
Box Office: (925) 931-4848
What they are saying...
"This past week, Ms. Grandi came back with the roar of a lioness with her new production that just opened this past weekend. Once again, Ms. Grandi has delivered a much appreciated musical in the beautiful little Firehouse Arts Center and Theater in Pleasanton.

Everything about this show is "fantastic". The overall direction and choreography by Lois Grandi has just hit another high."

Charles Jarrett

-----------------------------------------------------------------------------------------------------------------------------------------------------

'She Loves Me' is utterly charming at Pacific Coast Repertory Theatre
"directed and choreographed by Lois Grandi

Grandi took six months to cast the show, and the work paid off at jackpot levels -- each member of the cast is a delight."

Pat Craig
San Jose Mercury News/Contra Costa Times